This seems to be the time of year for bloggers to float off on boats – I'm looking forward to reading
White Hart's adventures when I get a moment. In non-boat related LiveJournal stuff I owe a huge 'thank you' to
Cirieno for alerting me to an eBay auction where I was able to pick up a copy of the script to an episode of a sitcom that I was in the audience for the filming of.
I'm feeling pretty crappy at the moment. As is fast becoming traditional, Beloved Other Half returned from the Folks Up North with an embreonic cold, which blossomed on the boat before abandoning her and leaping across to me. A headful of cotton wool has put the kybosh on any detailed posts here (sorry about the silence) but here, as ever, are some photos.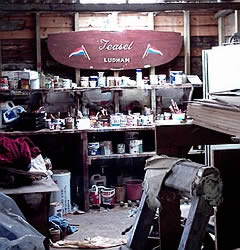 Boatbuilder's shed
Inside Hunter's Yard. The Arthur Ransome fans among you will be as excited as we were to learn that the transom on the wall was used in filming Coot Club and The Big Six.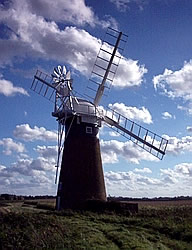 Thurne mouth windpump
Used for drainage rather than milling, this is one of two windpumps at the confluence of the Thurne and the Bure.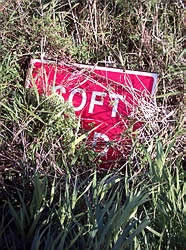 Prophetic sign
It must be 'soft mud' – most of the warning sign has been swallowed…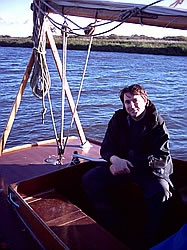 Lone helmsman
Safely moored up and avoiding the dangerously strong winds, of course, and looking happy because a long slog through overgrown footpaths is now over and the kettle will soon be on.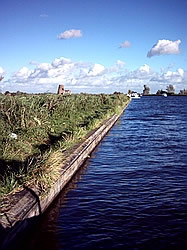 Land, water and sky
A typical Broads landscape as the River Bure and the flat land by St Benet's Abbey lie under the widest of horizons.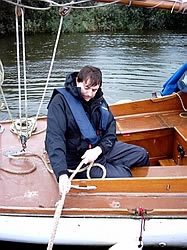 Mooring rope
Mooring in Womack Dike, tying off the stern warp. It's always smarter to run the warps ashore and then back on board, as you can release them without leaving the boat. Note the lifejacket – after last time's dunking, I'm taking no chances.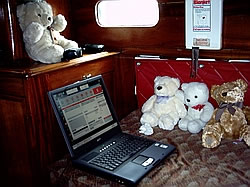 Data bears
From left to right, Teddington, Halzephron, Kennett and Thirsk ponder the miracles of laptop internet access.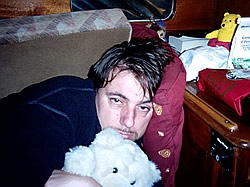 Teddington to the rescue
It's cold, it's late, I'm too long for the available space, my hair's a greasy fright, and earlier I exterminated the most horrible spider you ever did see in the bilges of the toilet (which still doesn't flush). At times like this, a sailor really does need his bear.