So far, so good in my return to office-based work. The transport network seemed pretty quiet to me, although the Standard was claiming that was because it was the first day of the school holidays.
Whatever the reason, rail and Tube both seemed to have fewer passengers in general, and in particular fewer older people, middle-aged businessmen in suits or ethnic minority members: I've never seen it so white and so young. But, to coin a cliche, it was definitely business as usual, and the Angel was bustling.
Ah well – off there again in half an hour. Still would prefer to be asleep, you know…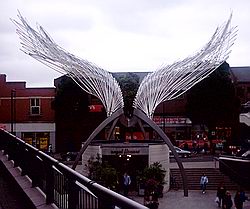 That's £550 with a hotel
I've been visiting the Angel, Islington, for years, but this is the first time I'd wandered into the bit with this impressive interpretation of the area's name.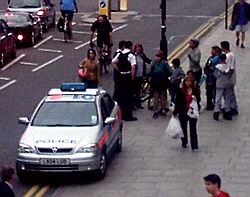 Free parking
The police presence wasn't huge, but what there was seemed more obvious than usual – bulletproof vests here despite the mundane nature of the call-out.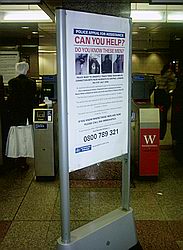 Grim reminder
It was all pretty normal on the Tube – until you emerged at Angel and were hit with this pointed reminder that all was not well.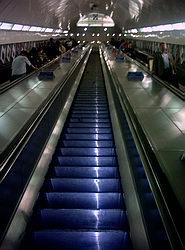 Higher, ever higher
The escalator at Angel Tube, from the bottom. Apparently it's no longer the tallest escalator in Europe, but at 60m (197ft) with a vertical rise of 27.5m it's still comfortably top on the Tube network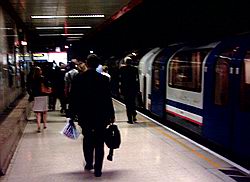 Not many people
Commentators said Tube traffic was normal for the first day of the school holidays, but to me there seemed fewer people – I'd normally expect to see a larger crowd than this leaving the Waterloo and City Line, even if it was late in rush hour