Here's a thing to try at home:
Go outside and find an old tennis ball, or a stick, or a rock, or indeed just about anything. Throw it up in the air – straight up, vertically, as far as you possibly can. At its highest point it will hang for a moment, as if suspended, before it falls down to earth again.
Think about that point in space where it hung, assuming you aren't lying unconscious with a split skull from failing to dodge your falling object.
That point is just a random bit of air and nothingness, and has been for millennia. An occasional insect or bird might fly through it, but that's about it. It's no place special, just a bit of sky like any other.
Now imagine if a house or towerblock or office building was built where you are standing (or lying bleeding, if you were unlucky). The point in space would be engulfed, and could now become anything.
It could hold a meeting room desk where an important treaty is signed, or torn up.
It could be the darkest corner of a room where a teenager huddles on the floor and cuts herself.
It could be the interior of a cupboard which is never opened, or a locked box tucked away where thieves will never find it.
It could be a bedroom where a child is conceived, or born, or where someone lies down to die.
It could be a dark, piss-streaked stairwell or a broken-down lift.
It could be a balcony windowbox, full of bright flowers.
It could be many, many things – but what unites them is the way we will forget how the point in space was ever nothing instead of something. No matter how thin the wall or floor separating it from the sky, we will take it into our horizons as space that belongs to humans.
Until the building is demolished, and the space is free again.
I think about this a lot, strange though it may seem.
Almost 10 years ago, when I was working in North London, I'd stand on the station platform waiting to go home and think about it. The station was a high-level one, on an embankment built by the Victorians to carry the line. Opposite was a building that used to be a telephone exchange where my grandmother worked as a young woman. While I worked nearby, it was being gutted and converted into luxury flats. I used to stand on the platform and marvel at how the space where I was standing, and the space where people would shortly live, and the space where my grandmother used to work, had once been nothing more than sky.
I was never able to adequately explain this – when I tried, people looked at me funny, as you perhaps are too. No matter.
The same thought occurred to me when the Twin Towers fell – how could it not?
And I was thinking about the subject again recently when a block of flats was demolished where I now live. They were ugly flats, and not greatly missed, but people gathered to see them torn down over a series of days.
As the mechanical grabber ripped away the front of each flat you could see inside it – see the colours the last resident had chosen to paint it. One flat, I recall, had a wall of bold, simple colours like a painting clutched proudly by a small child waiting at the school gate for its mother. It had blue sky, green grass, and a set of brown goalposts.
It was easy to imagine the children who had lived and played in it, and before my eyes it was gone, to become just another point in space where sometime, someone might throw a ball.
If they have a very strong arm.
The demolition of Home Court

Waiting for the end
I posted this back in April after returning from holiday: the flats await their fate.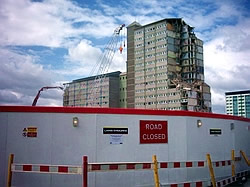 None shall pass
Security got a little more effective once the demolition finally began.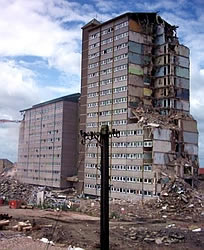 Paint jobs
With the side of the tower gone, a dozen residents' taste in decor is revealed.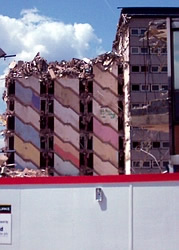 Candy stripes
Staircases stack in pastel stripes.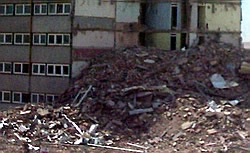 Buried alive
The ground floor slowly disappears, buried by the rubble of the floors above.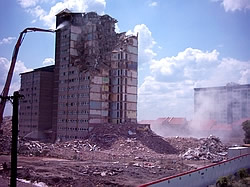 Dust storm
Although the mechanical grabber sprays water in an attempt to reduce dust, a cloud still drifts off-site towards the railway.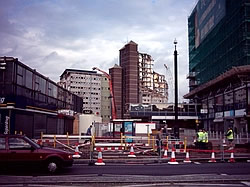 Street scene, one day later
Most of these pictures are taken from a footbridge over the railway, but there was a clear view from the High Street too.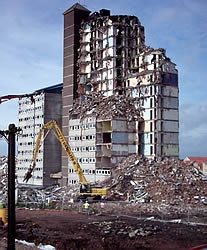 Picking over the corpse
Progress was swift – less than a day has passed since the third photo, but the carcass has a lot less flesh on it.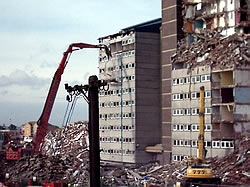 Pincer movement
A demolition ball took out the interior, structural, walls but all the outside walls needed was a gentle tug from one of these grabbers.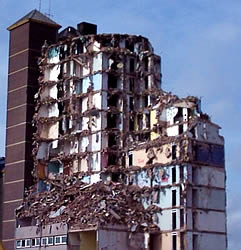 Echoes
There were times when the ruins of the flats reminded me uncomfortably of pictures of the World Trade Centre wreckage.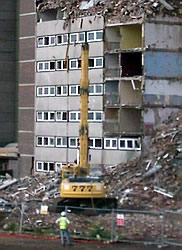 Colour palette
Lemon yellow, black, beige and grey. I wonder if the people who lived here knew the colours their neighbours had chosen?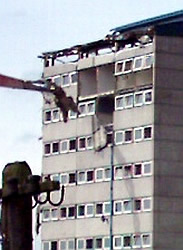 Broken window
The grabber delicately teases out half of the frontage of yet another doomed home.