For reasons that make a long story (novel-length, with any luck) I wanted to visit a seaside resort out of season to remind myself of the atmosphere.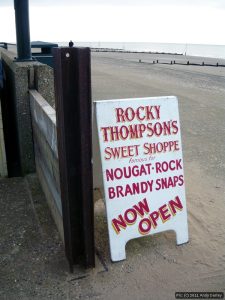 It's been a long time since I lived in Great Yarmouth and Lowestoft, after all, and even longer since visiting family in Lincolnshire occasionally included a jaunt to Skegness. Nor did I get to see many of the sights as an observer at NUS conference in Blackpool as a student.
So, back in March, we loaded up our metaphorical bucket and spade and headed off to the seaside.
While what I really wanted was somewhere seedy and run down, the need for an enjoyable day trip meant that instead we went to Hunstanton and Cromer on the north Norfolk coast.
The season hadn't started yet – not by a long chalk – but it was starting to heave into view on the horizon.
There's nothing bleaker than a seaside resort in the depths of winter, with howling rainstorms lashing boarded-up seasonal attractions, and that atmosphere was missing in both towns.
But the few visitors that had ignored the calendar to make the journey to Hunny had the air of endurance athletes, not holidaymakers, while barbed wire, barriers and boards were much in evidence along the front.
By the time we reached Cromer it was dark, and the heaving waves around the pier – though nothing particularly special – were a reminder why the town is as famous for its lifeboat as for its bucket-and-spade brigade.
Photo gallery
Click each thumbnail to see larger version.