It's been a bitty, but perfectly reasonable, few days. Nothing of wild and stunning excitement has happened (hence the lack of posts) but, equally, nothing too unpleasant has happened either. Just life really, I suppose.
I posted a few weeks ago after the British Grand Prix about how my favourite Formula One team, Minardi, had run without sponsorship in tribute to a team member who'd died. I thought it was a pleasing sign that there are some things more important than money. I should have read the small print more closely.
When team boss Paul Stoddart said he wanted to express his thanks to "an overwhelming majority" of sponsors for agreeing, he'd obviously chosen his words carefully. The team's main sponsor, Dutch bathroom outfitter Wilux, has thrown a strop about its logos being taken off the car. It's not clear who sacked who, but Wilux no longer sponsors Minardi.
And good riddance, say I, if that's their attitude.
I've been getting all nostalgic for Iceland, as I'm working on an entry for a travel writing competition and it's all flooding back as to what a wonderful country it is and why I wish I could go back. One day, when they stop whaling again.
Last night we felt we needed cheering up and stuck on a DVD, one that I'd bought a while back and hadn't got around to watching. It was Truly Madly Deeply, a 1991 movie starring Juliet Stevenson as a woman whose lover has died unexpectedly, and who is failing to cope alone – until the evening he comes back from the dead to be with her. The lover (or possibly husband, it's never stated) is played by Alan Rickman, who can conjure a world of tragedy in one look, before he even opens his mouth to speak.
As a mechanism for making the happy come back, it failed miserably. I'd forgotten just how gut-wrenchingly tragic the last few minutes are and was in floods of tears until long after the closing credits had finished, occasionally emitting such semi-coherent wails as "but he loved her so much", and other meaningless inanities. Beloved Other Half (who'd had her wobbly moment earlier in the film) was meanwhile rolling on the floor laughing at the irony of how the cheering-up attempt had ended in tears.
You really need to see this film. But keep a handkerchief near by.
A couple of days ago we'd felt the urge to get out of the flat and decided on a day trip to Norfolk. I worked on a newspaper in a medium-sized market town called Dereham about 10 years ago, and one of the stories I'd covered was how a group of railway enthusiasts were trying to re-open the branch line into the town and run it themselves as a locally-owned tourist attraction and commuter line. Some years after I left they succeeded, more or less, and we thought we'd have a look at it. The back-up plan, in case we didn't get up there in time for the last train, was to visit Wymondham Abbey, which we'd never been to before and which is next to the furthest end of the line from Dereham. (Pronunciation note for those forriners not up on talking Norfolk – you say it "Wind'm", not "Wy-mond-ham".)
Naturally, we missed the train by about 10 minutes so we ended up at the abbey. Like a lot of abbeys it was a major establishment before Henry VIII struck, but unlike most it wasn't reduced entirely to rubble. Although there are a fair few ruins on the site, the old abbey church survived and continued as the town's church. I've seen smaller cathedrals. It really is quite an astonishing building.
A tower tall enough to interfere with air traffic gapes open to the elements. On one side its walls continue as ruins or as mere hummocks in the grass. On the other its door and windows are all bricked up and it sprouts a church the size of an aircraft hanger, with an equally big tower at the other end. The shift in perspective from centuries-old ruin to functional building in just a few feet is truly brainbending.
A small corps of flower-arrangers were scuttling in with baskets of white blooms and there was a tour guide as well, wearing a metal insignia on a ribbon that made me initially wonder whether he was the mayor, or possibly a freemason. We normally steer clear of volunteer tour guides, as it can be difficult to shut them up, but this one got the balance just right – appearing with some salient fact when you needed it, and then melting away again to allow you enjoy sights like the magnificent wooden roof beams in silence. Beloved Other Half bought a guide book, I found a friend's grandfather on the roll of honour of dead from the 1939-45 war, and we departed to have a look at the railway station.
It was like stepping through a time warp into the 1950s, except the platform was made from decidedly modern – and wobbly – scaffolding poles. All the Mid Norfolk Railway's signage, the buildings, and fixtures such as level crossing gates were of classic styles and designs that have been modernised out of existance on the main rail network – more's the pity.
The final train of the day came in while we were there – no use to us, as if we'd caught it we'd not have been able to get back again, but it was fun to be there nonetheless. The train itself was nothing special – they don't run steam or anything like that, it was a diesel of a type common during my childhood in the early 1980s. But the astonishing thing about it, if you travel on the 'proper' railways much, is that it was clean. The paintwork gleamed and the carriages were tidy – it looked like something you'd actually want to travel on, and showed up just how low our standards are in day-to-day life that we're prepared to put up with the mobile hovels some rail companies expect us to use.
So kudos to a second set of mid-Norfolk volunteer enthusiasts – they've obviously got the right idea up there.
To end the day we took a road that runs along broadly the same route as the railway, criss-crossing over and under bridges along the way, to my old home of Dereham. There I revisited a few old haunts, nearly ran into a former colleague but dodged just in time, and passed my old local while a Big Brother programme was on the TV by the bar, visible through the open door. Michelle had just appeared on screen and a woman's voice screamed "kick out the slut". So that's the point at which I knew who was going to be evicted last night.
Anyway, here's some photos, some by me and some by Beloved Other Half.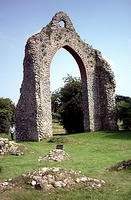 Chapter House
The ruined end of the Chapter House. That tiny white blob by the base is me.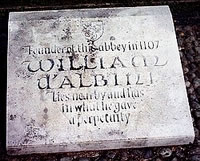 Founder's stone
"Founder of this abbey in 1107 Wlliam D'Albini lies nearby
and has in what he gave a perpetuity"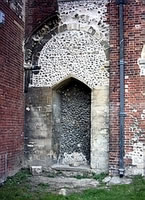 Double doorway
I was interested in the way this doorway had been bricked up twice, one when it was a grand arch, once when it was far smaller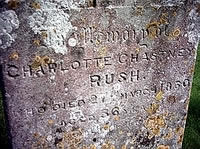 Charlotte Chasteny Rush
Died 1860, aged 36. A random, but typical, gravestone in the churchyard.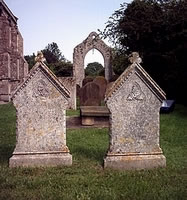 Graveyard vista
The Chapter House ruins lined up behind twin stones.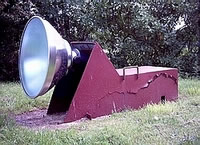 Sit Boy
I was amused by the way this light, which illuminates the tower at the non-ruined end, looks like a waiting sheep dog. (Or maybe it's just me who sees it…)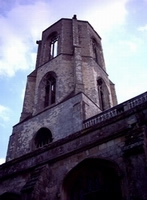 Towering ambition
A tower. It's very tall. And partly ruined. What else to say? Lots, probably.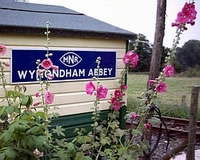 50s station styling
The Mid Norfolk Railway volunteers really know how to recapture that pre-Beeching feeling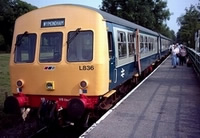 Look – clean and fresh
Bright paint! Shiny sides! They probably wash it every morning too.