The third and final batch of photos from our camping weekend (a dim and distant memory now, I fear) comes from Cleeve Abbey, which was strictly second division in the pre-dissolution abbeys and monasteries league, but which now boasts some remarkably complete ruins and is therefore well worth a visit.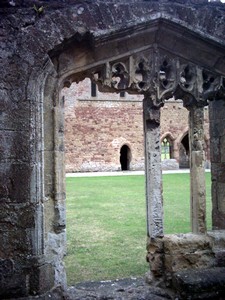 Time warp
Looking across the cloisters to the largely-intact buildings on the other side, it's very easy to believe you're in a working building that just needs some repairs – not a relic from the Dissolution of the Monasteries.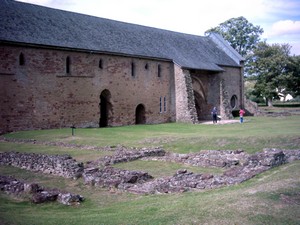 Up to Bedfordshire
From the rear of the abbey complex, the two storey building with the dormitory upstairs and the ruined stub of the Chapter House sticking out. In the foreground are the footings of the reredorter (bathroom, to you and me).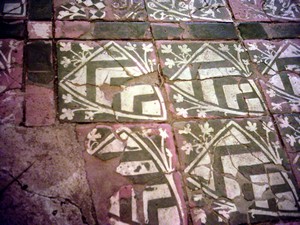 Floor story
The late thirteenth century heraldic tiled refectory floor, discovered by excavation and now presenting a headache over how best to preserve it.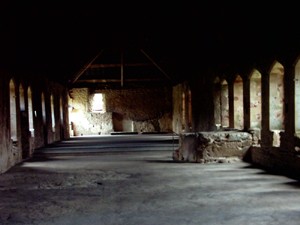 Monk beds
Upstairs in the dormitory – very atmospheric, and easy to visualise what life must have been like.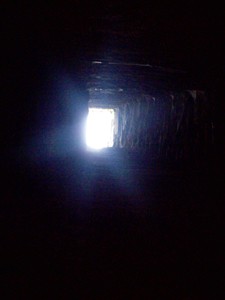 Watching for Santa
Up a chimney, taken with my head stuck in the fireplace. Couldn't resist it, sorry.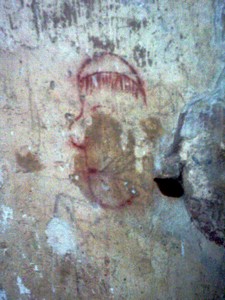 Unholy mess
Graffito of a tonsured monk, from a corridor – it certainly looks contemporary with the famous mediaeval wall painting in a nearby room. And the art is to a higher standard.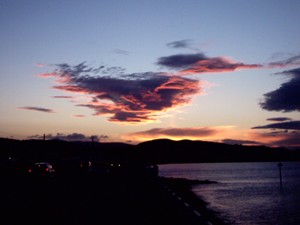 Obligatory sunset shot
Westwards from Blue Anchor. Who can resist a sunset? Especially with a thumping great cloud like that one, so artfully posed.