Things have been inevitably getting rather sketchy in this journal recently – I say inevitably because I've barely stopped moving long enough to process what's been going on, let alone write about it.
And that's not about to stop. Tomorrow morning we're off to spend a few days on the boat – which should be interesting, as I cracked a rib falling off it last time we went. We'll take the laptop, but who knows what reception will be like?
And then we'll be away again for the first couple of weeks in October, initially walking some of the South West Coast Path, then afterwards spending a few days in St Ives to recover and to rest our weary feet.
We've booked almost a week at Talland House – having visited Virginia Woolf's final home (Monk's House, now a National Trust property) a few weeks ago we're now going to be staying in the house where she spent her childhood summers. We stayed there a few years ago but since then it's changed ownership and been refurbished.
Woolf's been my favourite writer since I was at school and we read The Waves. There's a quote or two from her literary criticism, where she tried to describe the process of fiction as it ought to be (in her eyes at least) that sum up how I see journal-writing too. I'll try to dig them out at some future point. But try this for starters:
Life is not a series of gig lamps symmetrically arranged; life is a luminous halo, a semi-transparent envelope surrounding us from the beginning of consciousness to the end.
('Gig lamps' are the lights at the front of carriages – writing now, she'd have probably spoken of car headlights.) Try here for more quotes: http://www.brainyquote.com/quotes/authors/v/virginia_woolf.html
Before today, I've been in the bosom of my family – or families, to be more accurate, as I have two. I don't write about this adoption business much, mostly because one of my cardinal rules in journaling is that I don't go public on stuff that's private to other people. And you swiftly learn when it comes to adoption that quite a few people can lay legitimate claim to deep and private feelings. But to summarise: I was born, I was adopted, and then 10 years ago I traced my birth mother, who has just this week had one of her landmark birthdays and been given the dubious pleasure of receiving a 72-page album from me, packed with photos and school reports dating from a month or two after my adoption (in 1968) right up to the Monk's House visit mentioned above.
Compiling the album meant up a couple of journies up to my parents' in north Hertfordshire, complete with laptop and scanner, for a nostalgia-fest plundering the family photo collection. This was followed by baffled hours trying to work out dates for yellowing snaps full of people in dubious fashions – "I'm sure that must be 1976, I'm wearing the same shirt as that one with the date written on the back", and "We haven't had that carpet for 15 years", and "I got rid of that awful haircut in 1985", which earned the swift retort "you didn't think it was awful at the time". I know I didn't – but when did teenage boys ever have good taste, eh?
I was also able to remind myself of the remarks in my school reports from the teacher (deputy head, maths and religious instruction) now facing child abuse charges dating back to that time. To look at what he wrote, I obviously stuck out from the crowd to him. Fortunately, not by enough. Or perhaps he thought I was too talkative to be a safe victim. Who knows? Maybe I'll ask him after his trial.
Delivering the album meant a trip up to Altrincham, where a surprise party was organised for my mother. Astonishingly, the surprise was kept until the moment she walked in – despite a thousand narrow escapes, including Beloved Other Half and myself nearly giving the game away by fixing to meet up with a little too publically. (Get well soon, Gerri. Shame we had to cancel – but we'd have been lousy company, I was fast asleep at the time we were supposed to meet up.)
As ever, we had an enjoyable visit – thanks to Jules, Woody and Emily Grace for great hospitality, although I refuse to be scapegoated for the breakage of the flower-pot under which the front door key was not hidden. And Sue, the upgrade from futon to bed was very welcome. An upgrade from Win98 to WinXP would be a good next step… happy birthday, anyway. Sorry to have to bale out on the day itself.
A scramble home via train took up most of Monday, as I was working the evening. The journey got progressively easier as the day went on, the early train-catching being difficult and stressful, but the later changes being closer to home turf and easier. At Manchester Piccadilly we found ourselves on the next platform to the one where the record-setting tilting train was coming in – the brass band awaiting it was a nice touch.
Amusingly, when the train pulled in the first person to leap off was a harrassed-looking PR-type carrying a model train set. She immediately melted into the crowd – inasmuch as an eye-catching blonde carrying a three-foot red and grey cardboard box can melt – and joined everyone else in applauding the embarrassed-looking driver as he emerged, blinking, to face the TV cameras and reporters.
Some quick train-related photos: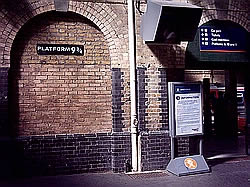 King's Cross Platform 9 3/4
Of interest to Harry Potter fans only, of course, but it was a pleasant shock when I saw it there, next to the Platform 10 that I've been using for years, on the way up to see my parents.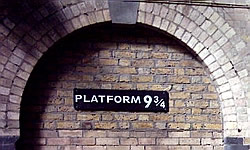 Close-up of sign
I didn't see anyone running unobtrusively at the sign – just some Japanese tourists having their photo taken in front of it.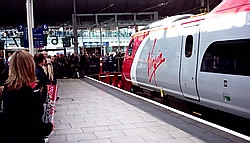 Big train set
The record-breaking train has stopped for no more than a few seconds and already the crack PR operative who leapt off it with her cardboard box looks like she's been standing there for hours.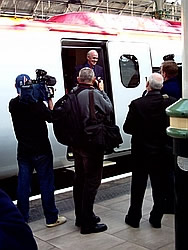 Hello Mum, I'm on the telly
Well, I'm not – I'm taking the photo, obviously. But a slightly bemused train driver (who, reports say, started his job during the last days of steam) most certainly is.