Bit late, this post, but what the hell. A couple of weekends ago we combined two of our favourite interests – good books and archaeology – in one visit to the excavations at Silchester Roman Town.
Every year, Reading University holds a dig for its students on Insula IX of the site, gradually uncovering four centuries (so far) of history. Each year they hold a couple of open days – we went to a previous one and were greatly interested – but this year they did something extra: a visit from one of our favourite authors, Lindsey Davis, who gave a talk, read from one of her Falco novels, answered questions and signed autographs.
There are a tiny number of writers whose story-telling ability is such that I will automatically buy anything they publish, as soon as they publish it, and Davis is one of them. The Falco novels are an entertaining mix – part gritty detective tales, part comedy, with all the human insights that a well developed set of characters and their sprawling family relationships can provide. They were conceived as a way of setting a Philip Marlowe-style PI novel in the mean streets of ancient Rome but, as they have progressed, Falco's dreadful relatives have elbowed their way into the narrative, and Falco's adventures have also taken him across most of the empire – including that nightmarish rain-swept near-barbarian province to the north called Britain.
And you didn't have to spend long at the open day to see why the Romans must have hated it.
We had a quick look round the site in blazing sunshine, then went to Davis's talk – held in the marquee where the student diggers had their meal breaks. She was – as anyone who's read her pugnacious website would expect – entertaining, erudite and witty, with a to-the-point, no-nonsense attitude. Afterwards, we joined the official site tour, where one of the senior archaeologists took us around the edge of the trench and explained what was going on within it.
At this point, a thunderstorm materialised and the heavens opened.
Most of the diggers were, fortunately, on a break – most had dressed up in costume and those stranded outside, where they had been tending nail-making demonstrations, giving out directions or selling books, swiftly found that torrential rain turned bedsheet togas transparent, worked its way into all the nooks and crannies of plastic breastplates, and transformed realistic ancient British tunics back into heavy, itchy, sodden blankets.
We sheltered at the plant sales stall and watched the information Portakabin fill to bursting with summer-clothed visitors, then as soon as the first fury of the rain subsided we nipped back to have a look at the diggings – when you're relying on interpreting features from different coloured bands of earth, wet ground is so much easier to understand than dusty, dry ground. Strangely, no-one came with us.
We headed back to the car park as the rain continued to fall, passing ever more drenched visitors, our books bundled up tight in a plastic bag to keep them dry – a good day. Here's some photos: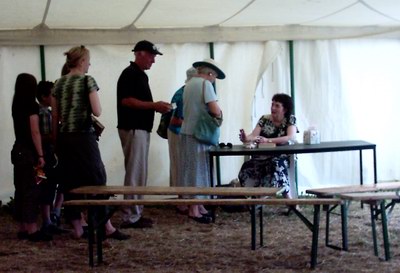 The author and her public
Lindsey Davis signs autographs for fans after her talk, held in the marquee where off-duty diggers eat, rest and – to judge from the stereo on the other side of the tent – party after hours.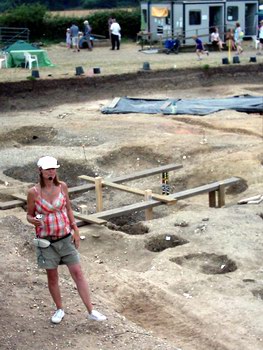 The road that used to be
A senior member of the digging team explains what's going on: she's on the fourth century road surface, behind her the excavations have reached the first century ground level. Running alongside the road is its drainage gully and a row of postholes from a late roadside arcade that have been driven through the earlier achaeology. The larger holes were all wells (apart from one cesspit) and the whole area behind the road was workshops.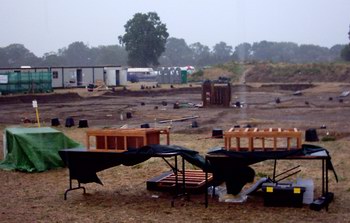 Storm
At the height the storm, everyone's fled for cover. But see how the ground in the trench is now darker, more varied and therefore so much easier to interpret?

The Romans in Britain
How they must have hated it here… costumed students shelter from the rain after striking down a display of finds.