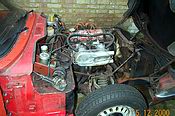 The AA inspection of my Spitfire that I commissioned before I bought it made interesting reading.
Here are the details:
Summary Report
Unsatisfactory

Not suitable for purchase. Vehicle has significant deficiencies which are judged to be impractical or uneconomic to repair to a satisfactory standard.
Inspection findings
Bodywork, understructure, and interior

Essential items: The vehicle is in a very poor condition
Advisable items: Vehicles interior is very worn. Seats torn. Door seals worn & split. Carpets poor fit etc.
Comments: None

Cooling System

Essential items: Radiator corroded evidence of a water leak. From top of radiator. Anti freeze level too low.
Advisable items: None
Comments: None

Fuel System

Essential items: None
Advisable items: Fuel lines showing signs of surface corrosion
Comments: Fuel gauge appears to operate reading just under ½ a tank. (Note from Andy: I had warned him the gauge did not work – it was actually stuck at half full.)

Engine

Essential items: Excessive oil leak visible around engine. (See road test.)
Advisable items: None
Comments: None

Electrical system

Essential items: Battery insecure. Temperature gauge not operating.
Advisable items: None
Comments: None
Voltages at battery: Nominal 12.5, Starting 9.7, Charging 13.4

Steering and suspension

Essential items: None
Advisable items: All suspension showing signs of surface corrosion.
Comments: None

Transmission

Essential items: Gearbox oil leak. Rear differential unit leaking. Clutch requires checking and adjustment (rides high)
Advisable items: None
Comments: None

Braking system

Essential items: Front brake discs are corroded and thin. Brake pipes showing signs of surface corrosion clean & inspect.
Advisable items: Front flexi hoses showing signs of ageing
Comments: None

Wheels and tyres

Comments: All tyres are remould tyres!

Road test

Essential items: Rattle from engine on acceleration and smell of burning oil. Requires inspection.
Advisable items: General rattles from vehicle.
Conditions: Speeds up to 60mph, open roads, damp.
Notes
Body work

The body is in poor condition overall having had some repairs carried out to the floor areas bonnet lower sections.
Areas of rust and corrosion are as follows.

Right hand & left hand doors paint flaking and rotten.
Bonnet repaired off colour rust showing holes showing on underside of bonnet.
Front lower panel paint flaking and rusting.
RH & LH rear arches paint flaking and corrosion.
Floor sections corroded RH repaired from underside.
Hole in bulkhead RH side from corrosion.
Rear inner wheel arches corroded and holed.
Boot area corroded.

Drivers door very poor fit.
RH & LH sills replaced now with surface corrosion.
Chassis has been repaired in places and covered in underseal.
RH front out rigger bent.
Roof / soft top is split cannot fit roof because handles are missing and press studs are missing.
Exhaust system showing signs of ageing and is rubbing on chassis section.
That was £190 I wouldn't see again – and not very well spent, either. Still, at least AA membership came with it, and I needed that quickly enough.