For anyone motivated by a passion for vegetable growing, Rosemoor – the RHS gardens near Torrington in Devon – are a 'must see' at this time of year. I said I'd write more about our recent weekend spent camping, but frankly I'm inclined to let the photos do the talking.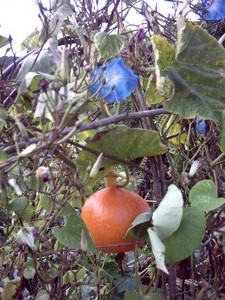 Squash-like thing with blue flowery thing
One thing you learn early in vegetable growing is that it's not just utilitarian – you can grow for colour and beauty and contrast too.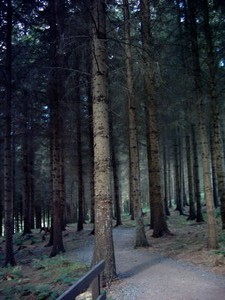 Mirkwood
Rosemoor's atmospherically-gloomy woodland walk is a marked contrast to the floral bedding and homely veg of the rest of the gardens.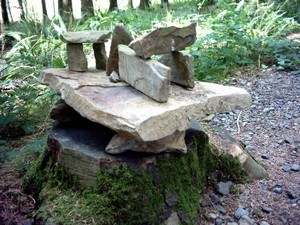 Des res for very small druids
All along the walk, piles of artfully-arranged stones and twisted, sentient-seeming roots have been left on stumps and against tree bases. Surreal, interesting and – at times – a trifle unnerving.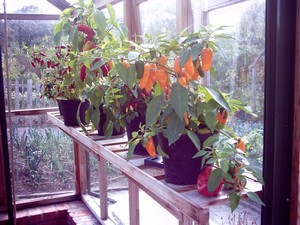 Hot stuff
In greenhouses and in the veg gardens, chillies in all shades of reds, oranges and purples grew with impressive verve.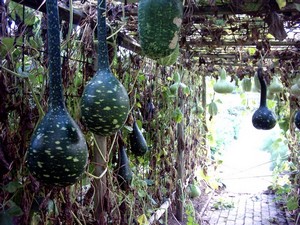 Under the gourd walk
This pic by Beloved Other Half shows surely the most bizarre crop in the vegetable garden…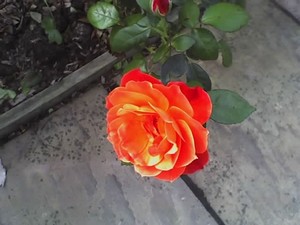 Fireflower
Almost the first things you encounter once you've paid and entered are the two rose gardens. This beauty was caught by my ridiculously low-quality camera phone – but looks none the worse for it.