Competition entries: BBC travel writing
In July 2004 the BBC ran a writing competition linked to its Radio 4 travel show Excess Baggage. The brief was "to write, in no more than 2,000 words, the story of a journey which changed you. It could be an epic trek across the Gobi Desert or a tour of the Pyrenees, but it doesn't have to be far-flung and exotic – a weekend trip to Bognor Regis or a run down the Settle to Carlisle railway would be just as good."
I guess the biggest changes you go through when you hit your 30s are all based around the transition from the influences of your youth, to the influences of the new experiences that you start to accumulate as an adult. Nor is it just a case of doing new things: old perceptions and thoughts are altered by revisiting previous worlds.
There is no greater trigger to that than travel – the classic example being revisiting a childhood holiday destination and layering new experiences and memories on top of the dimly-remembered old ones. In my case, there was only one serious candidate to write about for the competition – Iceland, a country I had never visited in my youth, but knew all about…
A brief craze for international correspondence
I suppose you might say it started with a small piece of paper, vivid orange and calm blue ink on white, handed surreptitiously to me under the desk in a geography lesson when I was 12. It ended last year on the shores of an Icelandic fjord, just a few miles south of the Arctic Circle, when I dipped my fingers in the icy water and laid a part of my childhood to rest.
The piece of paper had been sent by an international pen pal scheme. In the Hertfordshire of 1980 the internet and email were a thing of the distant future. If you wanted to make friends abroad and were too parochial or too impoverished to travel you needed a pen pal, a plentiful supply of stamps and inexhaustible patience. A friend had joined one and been sent more potential contacts than he could deal with, and was now dishing them out to the rest of us like spare bubblegum cards.
Random people
A brief craze for international correspondence soon swept my class and I threw my hat into the ring. My orange and blue slip bore the details of a girl in Austria, but one clumsy letter on my part killed that exchange stone dead. Another attempt with a French girl also petered out quickly. But I'd ticked the little box that allowed random people to contact me, and out of the blue came a letter addressed "Dear Darley!" The postmark was Icelandic.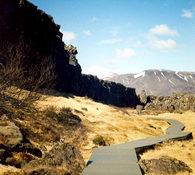 I knew little then about Iceland, just a vague and mostly inaccurate mental picture of volcanoes, Viking longboats, pugnacious fishermen and bananas grown in geothermic greenhouses. I had no idea then of the eerie calm of the rift valley at Þingvellír (pronounced 'Thing-vell-ear'), the blue-grey bubbling mud of the sulphuric acid fields at Hverarönd (pronounced 'Kverra-runt') or even the ferocious restaurant prices in Reykjavík (pronounced 'ouch').
In the six or so years of our correspondence I learned a lot from Jón Egill. He sent plentiful tourist postcards, which I stuck on the side of my wardrobe in a white and silver collage of waterfalls and glaciers. I also learned a few phrases of conversational Icelandic – 'merry Christmas', 'happy new year', and (for no reason that I can clearly remember) 'I love my teacher', which I dutifully transcribed into a Christmas card for a particularly attractive biology teacher who had set our teenage hearts a-flutter and our teenage hormones racing.
My horizons, which barely extended beyond my north Hertfordshire home town, now stretched to include places on the roof of the world that I couldn't pronounce, or conceive of ever visiting.
But in the end I did visit them, even though Jón Egill and I had by then long since lost touch, teenage concerns and interests making the letters less and less frequent until eventually one time it was my turn to write and I never did. Iceland remained a special, magical place in the back of my mind as the years passed, but the friendship that had placed it there was over. I got one last update from Jón Egill during our university years – a dance scholarship had taken him to the USA and a knee injury had brought him back again – and then silence.
On Icelandic soil
Silence was also the first impression my partner and I got in 2002 when we landed at Keflavík airport and trod on Icelandic soil for the first time. That, and clean air of a quality that we near-neighbours of Heathrow found unimaginable in a major international airport. I am used to landing in murk and fumes and clamour, after a final approach skimming over tower blocks and burnt-out cars. Approaching Keflavík, however, all one sees is a desolate lava field stretching for miles, a twisted mass of congealed green-black rock that grows closer and closer to your window as the aircraft descends.
Finally, just at the point at which you begin to believe there's no airport at all and an emergency landing is imminent, buildings start to appear. Iceland is so sparsely populated that it qualifies to enter a team in the Games of the Small States of Europe, an Olympics for the San Marinos, Andorras and Liechtensteins of the continent. Its airport – compact, with a car park too small for the average branch of Waitrose – is the first clue to this paucity of people.
Our first visit was limited in ambition, just a few days in a modest hotel in Reykjavík to see whether we liked the country. Visiting was my suggestion – when challenged to think up a new holiday destination I'd remembered Jón Egill's picture postcards and suggested we went north.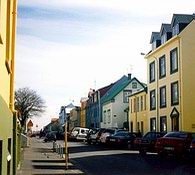 The 40 minute drive from Keflavík to Reykjavík was the first time I had ever driven on the right, and was also my first time behind a wheel since a 70mph spin on the M25 had written our car off. Coping with this, and navigating the narrow streets of brightly-coloured corrugated iron houses in the bohemian Reykjavík 101 district, prevented me from fully appreciating the enormity of where I was. It didn't hit home until I'd come to a halt opposite the Hótel Leifur Eiríksson and parked in the shadow of the stepped columns of the Hallgrímskirkja, a shining white stone church on a hill that towers over the city beneath. I climbed out into the teeth of a bone-chilling, ground-scouring, tree-flattening gale and capered around the car park in my shirt sleeves singing "I'm here, I'm here, I'm finally here" as 20 years of imagination and dreaming suddenly became solid under my feet.
The next three days were exhausting. With almost 24 hours of daylight the temptation existed to use them all. Calling a halt and going to bed with sunshine outside the curtains took an effort of will we were not always equal to. We dined at classy restaurants and on takeaway pizza. We bought cuddly toy puffins from gift shops and cold weather gear from the famed 66º North range. We explored the city on foot and the district by hire car. And we lingered at all the 'greatest hits of Iceland' tourist spots, hoping to give our visits more depth than the coach parties of holidaymakers who whizzed in and then whizzed out with barely enough time to take in what they were looking at.
Not long enough
Half a day simply did not seem long enough to explore Þingvellír, the valley where the European and American continental plates are drifting apart. This quiet, atmospheric place is Iceland's answer to Westminster Abbey, Runnymede and the Lake District, all rolled into one, and we shook our heads in amazement at the coaches that stopped for just 15 minutes.
At Geysir I crouched in the wrong place to take a photo and was engulfed in a great cloud of bathwater-hot steam, emerging dripping and glowering like a folkloric troll to the twittering horror of some American tourists and the amusement of my partner. At the mighty waterfall Gullfoss we were herded into a corner of the empty car park by a bored policeman who, when asked what was happening, shrugged and simply said "Berlusconi". Moments later a helicopter appeared from nowhere and the Italian PM bounded out, gave us a brisk politician's wave, and set off on a guided tour.
And of course, like every other visitor, we took our turn in the Blue Lagoon, that most unlikely of health spas created from the outflow of a geothermic power plant. There are many pleasures to be had from the milky warm water of this unique place, but none compare with climbing up from the pool to the viewing platform in the lava field high above. There – barefoot, wearing nothing but a scrap of Lycra and still steaming gently from your bathing – you can feel superior to the weaker hearts who have ascended from the café in full cold weather gear and hiking boots and are looking at you with their jaws hanging open in astonishment.
We kept ourselves busy, but the constant movement failed to drive away the thought permanently at the back of my mind – somewhere out there was Jón Egill.
Internet search
I decided before leaving England to make no attempt to trace him. The past is always best left undisturbed. Despite this resolution I found myself discussing how to track him down with the hotel receptionist. I had one clue – an internet search revealed someone of his name had taught aerobics in Reykjavík ten years before. Given his dance scholarship, there was a good chance it was him. But the receptionist swept aside my tentative questions about professional organisations and went for a more direct method.
So few people live in Iceland that its entire population can be held on one publicly-accessible database. Within moments she'd established that only one Jón Egill in the whole country had my man's last name, and a few seconds later I was talking to him on the phone.
To say he was surprised would be something of an understatement. To say he remembered me well would be an equal overstatement. While I had carried pictures of Iceland in my imagination for a lifetime, he had moved on and all but forgotten our correspondence, swallowing his disappointment at the loss of his dance career and taking a job in banking. I suggested we met up and he said okay, promising to ring the hotel with a suggested time and place. I didn't believe him – and nor did the receptionist when I told her. "That's Icelandic men," she said, grim but philosophical. "They say they'll ring, but they never do."
We returned to Iceland the next year and took a road trip, travelling as far as the northern towns of Akureyri and Dalvík and the strange, post-volcanic landscape of Lake Mývatn. We bathed in an open-air swimming pool just a few miles south of the Arctic Circle, ate at the world's most northerly branch of our favourite pizza chain, explored geothermic areas that could blow at any second, listened to a Bach concert in the Hallgrímskirkja and poked our noses briefly up the dusty road into the uninhabited interior of the country. I made no phone calls – the itch to contact Jón Egill was well and truly scratched.
But there was still one bit of unfinished business. His home town.
It lies in the north of the country, a short diversion from the ring road that circles Iceland. A drive-by visit was irresistible – I'd amused my partner for years with my pronunciation of it, and the fjord it lies on, and more importantly I'd felt a link with it from childhood thanks to the postmarks that regularly landed on the doormat.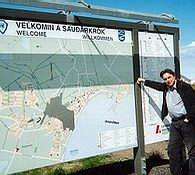 I explored the town briefly – it didn't take long. I lingered over the "welcome to" map board, looking for and finding the familiar street name, and wandered along the main road through the town centre. There was no traffic. I could imagine living there, but I could also understand why you'd want to leave if you grew up there.
It turned out to have a very similar feel as my own home town – cosy, domestic, quiet. It seemed the international pen pal service had managed to bring together two people from very similar backgrounds. The paths we'd followed thereafter had travelled in radically different directions, but they'd started from the same place.
I walked down to the edge of the fjord and crouched down on the gritty brown volcanic sand, looking across to the far shore, imagining. The act of touching the clear water felt like a conclusion – a cold one, but a clean one.
That part of my childhood was gone, drifting away into the Arctic, and into the past. Time to move on.
Postscript: A couple of months after our return, Iceland resumed 'scientific' whaling despite vocal international protests and an immediate tourist boycott. Until the world's most civilized nation abandons the world's most barbaric industry, I'll not be returning. Iceland will remain part of my past, but not my future.