Ah, the joys of being home. Got back late Monday night, spent Tuesday daytime cultivating a murderous headache, then went to work for the night where the headache took over completely. Much improved today after some sleep.
Heading up to my family very shortly as my Nan, who's in her 90s, had a fall yesterday and is now in hospital awaiting an operation.
Also heard from Mum that the case of my old deputy headteacher is with the jury… he's come up with some bizarre and astonishing excuses in his defence. More on this when I've seen the cuttings and heard the verdict.
Last batch of photos from the holiday follow, along with a welcome-home one.

Rocky beach
Day 8: Storm-force winds on this day, and I almost got caught by the sea as I got as close to the water's edge as possible for photos of the crashing waves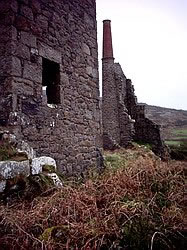 Mine ruins
Day 9: The remains of Carn Galver tin mine, on the twisty isolated road between St Just and Zennor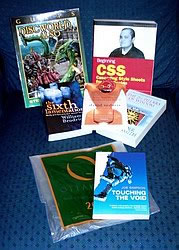 Shopping expedition
Day 10: On this day we were sick of the rural idyll and headed for Truro in search of bookshops and pizza. Here's the plunder…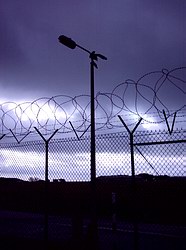 Defence of the realm
Day 11: A quick stop in the viewing area for the Royal Naval Air Station at Culdrose yielded some dramatic pictures of razor wire on the perimeter fence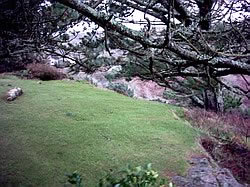 Who stole the garden?
Day 12: A stay-at-home day, and proof here of how the cottage's postage stamp-sized garden disappeared into a precipitous drop without warning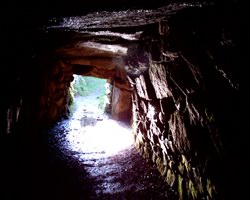 Light ahead
Day 13: The iron age settlement at Carn Euny is remarkably well-preserved despite the attentions of stone-robbers, farmers and tin miners over the years. This photo by Beloved Other Half shows the exit of the fogou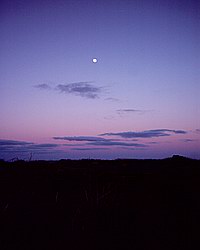 Moon over moorland
Day 13: We went up Chapel Carn Brea again for the sunset, but while we were waiting I swivelled round to find the moon putting on a show of its own over the west Penwith moors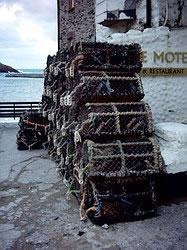 Lobster pots
Day 14: On the way home we revisited bits of northern Cornwall where we hadn't been for years, including Port Isaac, where these lobsters pots are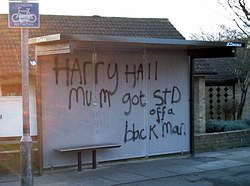 Welcome home
Our local youth demonstrates its tolerance, grammatical fluency, racial harmony and detailed medical knowledge in this graffito near my flat
This, by the way, is the cottage we stayed in. Very recommended for two people but almost fully-booked for the year already.