Beloved Other Half took a trip down to see friends on the Isle of Wight recently, and came back with intriguing tales of a fort on a shingle spit, part Tudor and part Victorian, poking out into the Solent from the mainland and almost touching the island.
This was Hurst Castle, and earlier this week we drove down to take a look at it – not without a pang of guilt that circumstances and scheduling would prevent us from meeting up with our friends on the island.
There's no road access to the castle, you must either walk along the spit (heavy going on the shingle) or take a ferry from a nearby village. Ever gluttons for punishment, we walked – both ways, as the last ferry left before we'd finished exploring.
Construction of the castle began in 1541, and the Army only moved out in 1956, so it was in pretty much continuous use for more than 400 years – you can see this in the patchwork of blocked-up doors, windows bricked up or converted into entrances, and other tell-tale signs of continuous use by people who lack sentimentality when it comes to playing fast and loose with historic masonry.
It's an odd contrast between the Tudor central tower of Henry VIII – all gloomy basements, 12-sided rooms and precision geometry in stone – and the two utilitarian Victorian wings grafted onto it like crinolines on the Mona Lisa. The Tudor section feels like a proper castle, but the Victorian area looks like nothing so much as racehorse stables – albeit stables where the 'horses' weigh 38 tonnes and boast rifled muzzle loading barrels. A final surreal touch is added by the surviving World War Two tin baths.
Definitely a cool place to visit, and I suspect we'll be back some day – but next time I think we'll take the ferry…
As ever, photos follow. More (and larger versions of most of these) are on Flickr here.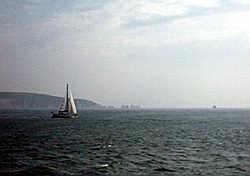 Threading the needle
A yacht enjoys the freedom after emerging from the narrow exit of the Solent, with the Isle of Wight and The Needles in the background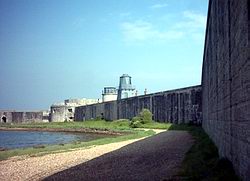 Flank approach
Beneath the towering walls of the western wing of Hurst Castle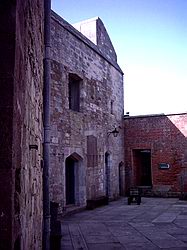 Secure area
A courtyard in the Tudor section of the castle, by the original battery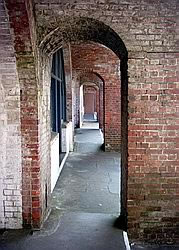 Vanishing point
A run of doorways disappears into the distance in the long Victorian west wing of the castle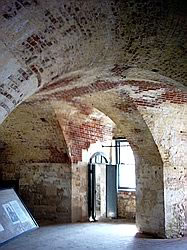 Safe as houses
Vaulted brickwork arches and ceilings in the living quarters of the castle's central tower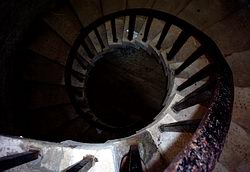 Descent into darkness
I have a real phobia of dark spiral staircases, so this was a difficult photo to take…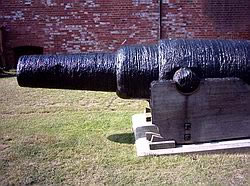 Blast from the past
This very large cannon had a very small bird perched on the top of it (look for the very faint diagonal line, dead centre where the barrel thickens).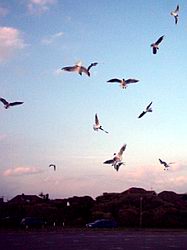 The birds
Back at the car, black-headed gulls express their displeasure at being disturbed by a photographer…