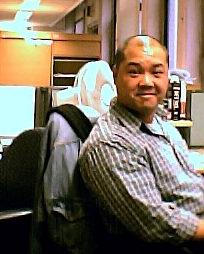 Kwok – a picture he's almost
certainly forgotten I ever took
Another appeal for money in aid of another good cause, folks. My old coding buddy at the Royal Mail, Kwok, is doing the London to Brighton Bike Ride on June 19 in aid of the British Heart Foundation.
On the plus side, he lives in Brighton, so he has plenty of incentive to complete the 54 miles – it's his only way of getting home. On the minus side, he freely admits he's not much of a cyclist – badly out of practice, with a training regime that takes alarming and unexpected detours through nettle patches.
So he could do with the support that comes from you dusting off your credit cards or WorldPay accounts. He's a really nice guy – nothing's too much trouble for him – so he deserves to have a little put back in his direction for once.
Also, having been born with a heart murmur (but not affected thereafter), heart disease is one of those causes I feel a bit strongly about. And the BHF is deep into its Help a Heart Week at the moment, an event designed to highlight the often-underestimated impact of heart disease on women. So there's two more things to add to the list of good reasons to donate.
Which are, to summarise:
Kwok's a really nice bloke
Anyone prepared to cycle 54 miles voluntarily deserves support
I once had a dodgy ticker, so I think it's important too
All the reasons listed in the 'Help a Heart Week' campaign
Oh – and Kwok reads this blog, and once put paid work my way, which is of course utterly unconnected with my decision to make a big thing about this. Honestly.
Click here to donate to Kwok online – every penny (or dollar equivalent) can make a difference.