Some photos from the recent camping trip. Despite being cut short, this was an unexpectedly refreshing and much-needed break – even if I did seem to spend most of it on the phone, juggling different bits of work that suddenly started mounting up. Before we went away I was enjoying not having any work on, but was also starting to worry where I might find some for the future. Those problems seem to have evaporated now, and I have meetings in town tomorrow and Wednesday.
While away, we spent four nights camping and then two in a B&B, and had been planning a few more under canvas before the recall home. We had extremes of weather, walking 10 miles in fierce sun one day, then enduring thunderstorms and thick fog a day or two later. Beloved Other Half is writing about it in detail, so I'll not repeat her here, I'll just content myself with bombarding you with photos at the end of this post.
Since we got back, most of my attention's gone in two directions. I'm trying yet again to kick-start the rebuilding of my personal website, which has been two years in development and is still no nearer completion – can anyone recommend an easy-to-configure CMS or templating system that produces standards-compliant code for 100+ static content pages? I'm also engaged in the serious nostalgiafest represented by plugging a turntable into the PC and digitising all the vinyl I bought when I was a hormonal teenager. There's some weird stuff in there, and some cringeworthy stuff, and some long-forgotten gems. Anyone remember Neasden's Queen of the Beehive, Mari Wilson?

Exmoor sunset
Midsummer's night, and the sun finally sets over Porlock Bay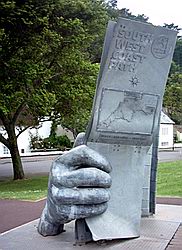 Helping hands
This statue of giant hands opening a map sits at the start of the South West Coast Path, the 630ish-mile long footpath that we've been walking in stages since 1997.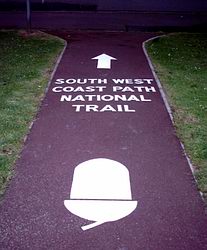 This way, chaps
And in case you're in any doubt which way to go, this helpful sign points you in the direction of the first steep climb.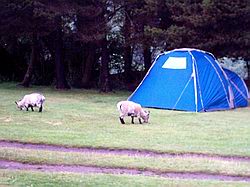 Occupational hazard I
Given that goats will eat anything that doesn't eat them first, it was always a nervous moment when this pair broke into the campsite from the neighbouring field.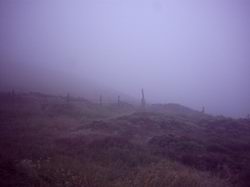 Fog on the moors
From high up at County Gate, where Somerset and Devon meet, the fog hid pretty much everything.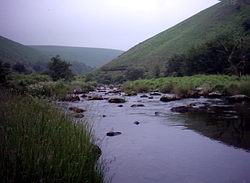 Valley of Doone
Down in the valleys, visibility was clearer – this is Badgeworthy Water, the inspiration for Doone Valley in RD Blackmore's Lorna Doone.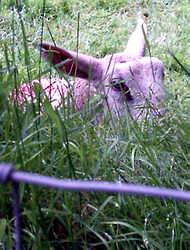 Oi, you
A sheep grazing. It never ceases to amaze us how those cute woolly lambs turn into bloody great lumps of eye-rolling uglyness when adult.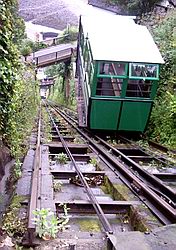 Cliff!
The water-powered Lynton and Lynmouth Cliff Railway climbs 500 feet up the cliff between the two villages – saving you from having to…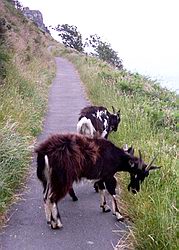 Occupational hazard II
March out of Lynton on the coast path and the first thing you encounter is a herd of wild goats – loved by locals for the tourist money they attract, but hated for the way they shit on the cricket pitch…