When I was a child, it was axiomatic that all small boys were supposed to want to be train drivers when they grew up. The truth, of course, was that none of us actually did hold that ambition and probably no small boy had done for a least a decade. It just took a while for the grown-ups to catch on.
It doesn't take a genius to work out why we all wanted to be footballers instead. It wasn't hopeless admiration for Kevin Keegan's haircut, and nor was it a precocious understanding of the parlous state of British Rail and its management. It wasn't even the constant drip-drip of derision levelled at the venerable British Rail sandwich.
It was, quite simply, the death of steam.
Certainly, at my primary school we enjoyed having a major rail line run past one side of the playing field – we all owned copies of Locoshed, the train spotter's bible, and we gasped in wonder when the new InterCity 125s were introduced (HSTs, we knew them as) because their streamlined looks were so different to anything we had ever seen before.
Like Concorde and the Triumph TR7, they represented the bold, bright future of the late 1970s – but they weren't steam trains, and they never could stir a young boy's soul in the way the Flying Scotsman and its brethren had stirred our fathers. Looking at them didn't make you want to be a train driver or a pilot or Tony Pond, it made you want to be a graphic designer.
Well, now I'm 37 years old, not seven, and I've missed my chance to fly on Corncorde – but I've won a design award (of a sort) and driven a TR7. And, from time to time, on holiday, I like to travel on steam trains.
Because that's what boys do.

Anton the Anonymous Engine
Don't ask me what type of engine this is – I don't know that sort of stuff. All I can tell you is that, like all the photos that follow, it's on the West Somerset Railway.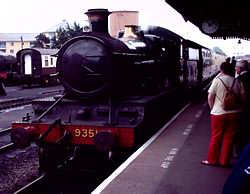 The train now arriving…
A scene from decades long gone – apart from the gaudily-dressed tourists – as the Bishops Lydeard service pulls into Minehead station.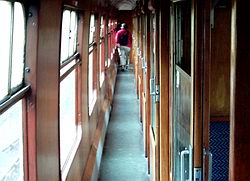 First Class
Trains on volunteer-run lines tend to have a mis-matched assortment of carriages – whatever they've been able to beg, borrow or otherwise accumulate. This is the WSR's first class accommodation.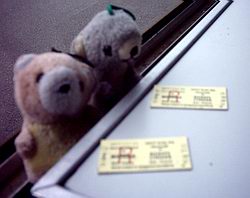 Tickets, please
The WSR uses wonderful stiff cardboard tickets, of a sort unseen for years. It's a pleasure to produce them for inspection – whoever you are…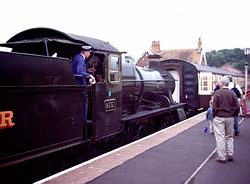 "Back her up a bit, Ted"
At Bishops Lydeard, the volunteer engine driver does technical engine-driverish things under the gaze of entranced tourists.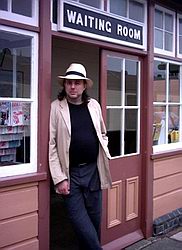 Briefly encountered
Outside the Bishops Lydeard waiting room, waiting to see if anyone needs a cinder removed from their eye.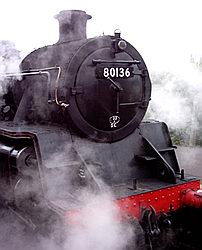 This is what it's all about
Nothing on earth looks, sounds or – especially – smells like a steam locomotive. (This pic, like the last, by Astrofiammante)