Quick update tonight as, frankly, I didn't do anything particularly interesting today. Went shopping, that was about it. Did get this picture from the cash till at the Tesco banch though – the feet amused me. Like idiot-proof instructions: use of this cash till will be enhanced by standing close to the unit, and on your feet. Standing on hands, or 10 feet way, is contra-indicated.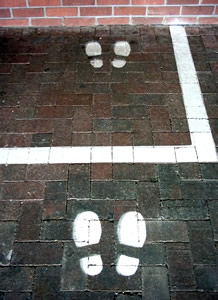 Footprints painted in front of a cash till to guide users
Here's a link to useful-looking bit of free software called Prevx, which is designed to protect your computer from new and emerging attacks by worms, trojans, spyware, malware and hackers: http://www1.prevx.com/. It was recommended in an Indy piece here.
Earlier I was reading a script circulated for discussion by a member of the East London Comedy Writers – an interesting mocumentary about three ex-superheroes who'd been made redundant thanks to the economic climate in Blair's Britain. I deeply regret that the group's meetings are always on Tuesdays, preventing me from going as I'm at work. I managed one meeting before I started at the Indy and that was it. Haven't been able to return. It's a shame, as it's always easier to do difficult things when you have a group of people in the same boat to support you.
Have had about seven hours sleep, in two bursts, which is good. One from 5.30am to 7.30am, one from 4.30pm to 8.30pm. Will go to bed soon, in the hope of grabbing some more.
Finally: spam. Instead of quoting some, here's a very satisfying story from the Register, but widely reported elsewhere:
Sibling spammers convicted

By John Leyden
Published Thursday 4th November 2004 12:49 GMT

A brother and sister have become among the first Americans to be convicted for sending spam email. Jeremy Jaynes, 30, and Jessica DeGroot, 28, were found guilty of bombarding AOL subscribers with hundreds of thousands of junk emails.

The duo were convicted under Virginia law which bans sending emails using false email addresses. A jury cleared a third defendant, Richard Rutkowski, of any wrongdoing, AP reports.

The court heard Jaynes made $24m from sales of worthless products such as an "internet history eraser" and information about "how to obtain funds from Fed-Ex". The jury recommended Jaynes should be jailed for nine years and his sister DeBroot fined $7,500 for their crimes; but sentencing, due early next year, remains the responsibility of a judge.

Virginia prosecutors described the case as the US's "first felony prosecution of Internet spam distributors", an observation that might come as some surprise to Howard Carmack (AKA the Buffalo spammer). Carmack was jailed for seven years in May after his March 2004 conviction for spamming-related offences (forgery, identity theft and falsifying business records). ®
The Indy report on the same story (which is pay-per-view only, unfortunately, or I'd link to it) has more detail:
Prosecutors also detailed the fraudulent ideas being peddled by the pair, including a scheme to earn $75 per hour at home doing refunds for Federal Express, a "penny stock picker" and an "internet history eraser" programme. Gene Fishel, for the prosecution, said: "This is a snake-oil salesman in a new format." Yet like snake oil in its day, the pair's e-mails found willing buyers. In one month alone, Jaynes received 10,000 credit card orders, each for $39.95 for the Federal Express scam. "This was just a case of fraud," said Mr Fishel.

Another prosecutor, Russell McGuire, said Jaynes amassed a net wealth of $24m (£13m) peddling the worthless products. "He's been successful ripping people off all these years," Mr McGuire said.

Prosecutors had sought the maximum 15-year sentence for Jaynes, and a lesser jail term for his sister, whom they said was less culpable.

David Oblon, representing Jaynes, called the punishment excessive as the prosecution was the first under the Virginia law. He said that as a North Carolina resident, Jaynes would have been unaware of the Virginia law. He called the jury's recommendation shocking. "Nine years is absolutely outrageous when you look at what we do to people convicted of crimes like robbery and rape."

Andy Morris, product director of the security company Clearswift, said: "Nine years in jail is absolutely right, though the fine is a joke – these people made millions. But for a spammer, if they risk nine years in jail that's going to make them think twice."
Nine years sounds good to me. Sure, it's outrageous that it's on a par with a rape sentence – but that says more about the leniency of rape sentencing than the severity of this result.