Last night our local football team, Hitchin Town FC of the Zamaretto League division one central, knocked their entry prices down to a fiver and we decided to go along and watch the game.
The opposition for this Herts Senior Cup first round tie was Ware FC, a team that hadn't won away all season and which Hitchin had already dumped out of the preliminary rounds of the FA Cup.
Looked good on paper, but they don't play football on paper.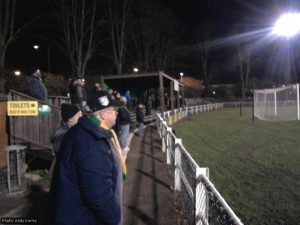 A dank evening developed into a shiveringly cold one and we were among only 64 spectators who braved the conditions. It felt rather like that old joke – the crowd was so small that, before the game, the names of the spectators would be announced for the benefit of the players.
For Beloved Other Half it was the third visit to Top Field, for me only the second – and this despite me growing up in the town. More to follow, I hope.
Our first game as spectators was against North Greenford United, and you can read Beloved Other Half's write-up here, or see some photos here. That was a good definition of a thriller, with late goals sealing the victory and their man-of-the-match keeper sent off for dissent in the dying moments.
Ware's website report used the same word for this one, calling it a "seven-goal thriller in which the lead changed hands three times".
Perfectly accurate as far as facts go, but it didn't have the feel of a thrilling game. It was deeply frustrating, with Hitchin's passing misfiring and Ware squashing us further and further back into our own half.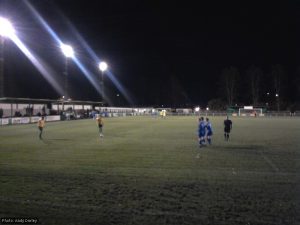 There was a short, happy, period when we were 2-1 up and the cold seemed to have disappeared (freshly-cooked chips, steaming tea and a Mars Bar had something to do with that, too).
But after 60 minutes there was a crunching tackle in the home penalty area and a confused period during which not a lot seemed to happen. With every spectator clustered optimistically behind the away goal, it wasn't at all clear what was happening so far away – and only those following the game on Twitter realised a Hitchin player had been sent off.
The penalty made it 2-2, another goal followed within two minutes, and a fourth arrived after 81 minutes. Hitchin pulled one back in injury time, but it didn't spark much hope – faced with the prospect of an equaliser, a voice from the crowd was heard to say "I hope not, or we'll be stuck here another half hour".
Ah well, there's still the league to look forward to – and Hitchin are top of that, 10 points clear with a +25 goal difference. And it was great to experience Top Field under floodlights. It's a uniquely historic place, protected from developers (and prevented from modernisation) by ancient covenant – as the essay with this set of photos from the North Greenford game explains.
We'll definitely be back, hopefully bringing better luck with us.
Photo gallery
Click to enlarge.