As a kid, I pretty much taught myself to read on a collection of books owned by my parents from an organisation called the Companion Book Club. You can still see dozens of titles from this club, which seems to have operated through the 50s and 60s, and into the 70s, languishing unloved in charity shops and second-hand bookshops even today. I buy as many as I can, having rescued Mum and Dad's collection from exile in the attic.
About a third of the ones my parents owned were biographies from the war and these, combined with some Penguin Classics owned by my Dad, pretty much colour my view of who's heroic in the armed forces even today: pilots, submariners and POW camp escapers being right at the top of the list and the actual army way down the bottom out of sight somewhere.
And if you're an impressionable child reading about the Battle of Britain and Colditz Castle, drinking in every word with wide eyes, you pretty soon form the impression that there's something special about Poland.
Whether it's Dowding's quote about the Battle of Britain, "had it not been for the magnificent material contributed by the Polish squadrons and their unsurpassed gallantry, I hesitate to say that the outcome of battle would have been the same", or Pat Reid's tales of Polish verve and elan in Colditz, or hearing about the Warsaw Rising or how Polish cavalry charged invading Nazi tanks, I grew up with a rosy picture of heroism that was only amplified by the accession of John Paul II and the Solidarity movement when I was just a few years older.
Of course, such sweeping generalisations rarely survive into adulthood in any sort of logical way, but they do remain as an undercurrent of sentimentality. In the same way that a Spitfire fly-past or the Submarine Service memorial on the Victoria Embankment can leave me misty-eyed, so can a good tale of Polish derring-do.
All of which makes it odd that I had never visited the Polish War Memorial, a landmark just a few miles away from where I live. Even Beloved Other Half, who tolerates my less logical eccentricities with a sort of weary indulgence, had been moved to comment on this oversight.
Well, now I pass it every day on the way home from working near Wycombe, when I use the junction that's officially called 'Polish War Memorial', and so I stopped one recent evening, weaving my way to the car park entrance across lanes of traffic more used to surging past it without seeing it.
I wandered around for a while, looked at some of the many names on it and at the crests of the squadrons carved into the stone. It's beautifully maintained, and obviously still a living memorial – a small display of flowers had been placed at the foot of the central column and, when John Paul II died, a Polish flag appeared at half mast on the flag pole for a week.
And that was it, really – I took some photos and drove home. There was no romance there among the names of the dead, but I guess that's not a surprise. As we rediscover to our cost every few generations, the only romance in warfare is to be found in the foolish heads of small boys and politicians.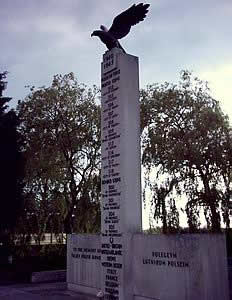 Taking wing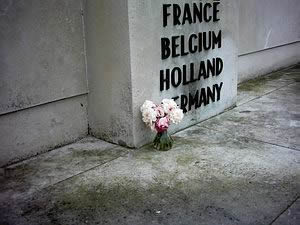 Flowers for the fallen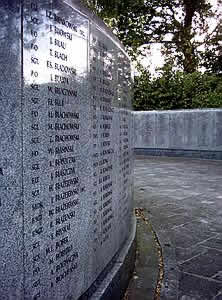 Rollcall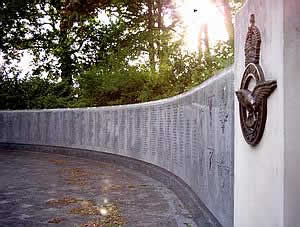 At the going down of the sun…