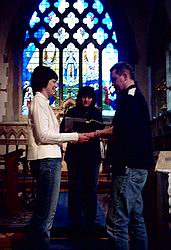 Wedding rehearsal
A jolly female vicar, firmly in the Dibley mould, leads Sarah and Dave through the rehearsal of their vows for Saturday.
Up to my hometown (or rather, a village nearby) this evening for the rehearsal of my sister's wedding. Given the sort of service we feared we might be going to when she was diagnosed with cancer a while back, this is going to be quite a weekend.
The contrast between the historic church and the relaxed atmosphere tonight was interesting. Even if the vicar's in casual clothes and the display by the church door is selling trendy Fairtrade chocolate and teabags, you still expect a building like that to have an air of oppressive solmenity and emptyness – not tonight.
I pottered slowly back to my parents' afterwards, in time to catch the extra time and penalty shoot-out in the cup final.
On the way I stopped at an industrial estate a mile or two from the church, where I used to work on a production line about 15 years ago. It's not the first time I've been back, but I've never had the chance to linger. The unit I used to work in is still owned by the same company, but it seems like it's been gutted and converted into warehouse storage during the intervening years.
I looked through the doors and remembered the noisy, cheerful gaggle of people I worked with and wondered where they are now. Without them, the place looked cold and empty.