I was up in London today for a sort of an interview-thingy (can't say more – all very Secret Squirrel hush-hush, Kat knows but she's not telling, are you hon?). Anyway, afterwards I sort of accidentally blundered into the big Pride rally in Trafalgar Square and decided to stop for a bit.
It was all very cheerful and sunny, with loads of stalls and plenty of colour. Perhaps a bit less of a 'buzz' to it than I would have expected, though.
There were uniformed police *everywhere* – but most of them seemed to have taken part in the parade and were wandering around afterwards on the same terms as everyone else. One of the main sponsors was the Metropolitan Police Authority, no less…
So here's three photos from the event – a bit hurried and with less detail than I'd normally try to get, but hopefully worth posting nonetheless.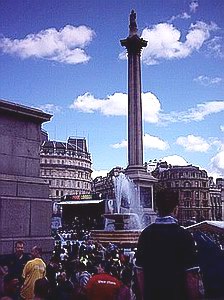 Standing proud, walking tall
Pride's main stage huddles under Nelson's Phallic Object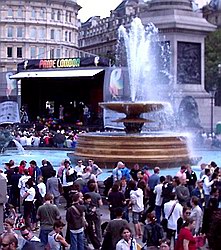 "I can remember when this was all illegal"
Somewhere in there Mayor Ken Livingstone is making a speech taking credit for it all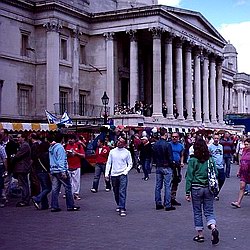 Young man, there's no need to feel down
Stallholders ranged from the Socialist Workers to the Met Police – all hoping to drum up recruits from the crowds
There's also a BBC Online report here: "Thousands party at Gay Pride".
The two guys in pink in the photo on this story were walking ahead of me and as we left and crossed the Thames on a footbridge with a glorious view up the river. They were carrying their headgear in their hands but put them on again to pose for a photo with the Houses of Parliament and the Thames in the background.
I couldn't tell if it was a tourist wanting to capture them for posterity, or if they'd asked him to use their camera to take a photo for them as a keepsake of the day. I hope it was the latter – they seemed a sweet couple.