So, farewell then 2004. You were a funny old year. How shall I remember you in years to come?
To help me when I'm old and grey, here's a review of my year – a greatest hits, if you like. If you've been with me through the year – thank you, I appreciate it.
Warning: very long post! Links to archive posts open in DeadJournal until late February, when I set up the version of this blog on JournalSpace. From then on, they go there.
January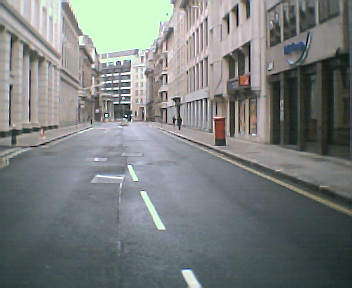 The City on a Saturday – deserted, so different from weekday mornings
This is the month I gave up my job – and any pretence at being a politician any more – to start several months of frantic writing and not-frantic loafing, to a background of nervousness as the savings gradually diminished. I also spent the New Year in a cottage in Cornwall, saw dark clouds gather over my love affair with Howard Dean as he lost in Iowa, and found myself snowbound in Norfolk while the government gloated at forcing out Greg Dyke.
February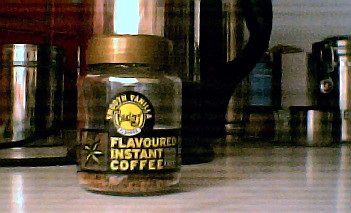 Vanilla coffee (one of a series of yellow and black photos)
In which I got horribly nostalgic for my old colleagues and found that it's difficult to get used to being at home all day – particularly the sleeping bit. It was a month spent struggling with connecting a home network (one machine is running Win95 still), finding excuses to sneak off to Wagamama's, arguing about Marmite, and mourning the long, slow, painful death of the Dean 2004 campaign.
March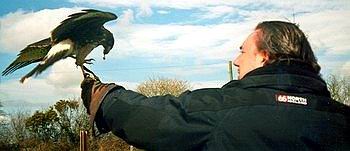 A pound or two of flapping, wild-eyed hawk
A huge month. My birthday, and we returned to Cornwall for a holiday of mixed success and for an astonishing day with a falconer. I finished the first draft of my screenplay, Penny Dreadful, we launched our walking website, WalkWalkWalk, and bought a mobile internet card for the new laptop, which has revolutionised the way we work. Elsewhere, one of my former teachers was hauled before the courts on child abuse charges.
April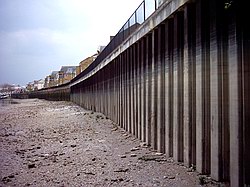 Standing on the bed of the Thames in Chiswick
We began the month in Cornwall and ended it on our boat in Norfolk. Apart from that I'm not entirely sure what, if anything, happened during this month, other than people who should have known better acting strangely. The vicar of the church we live next to ratcheted up his madness by declaring war on the "dragon of liberalism" (me presumably, as the local Liberal Democrat spokesperson) and announcing that the bones of the dragon St George killed had been found in Turkey. And our nuisance neighbour decided to put on a show for us all with her boyfriend…
May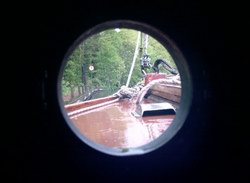 Rain through the cabin porthole
A month which started with me breaking a rib by falling off the bloody boat, and ended with an awful, but also highly comical, ear infection… In between, a tax rebate of almost £5,000 bought me some more months off work, I began my usual annual love-hate relationship with Big Brother, and after 27 years of searching I finally managed to track down a copy of issue three of 2000ad comic. God, what an exciting life I lead.
June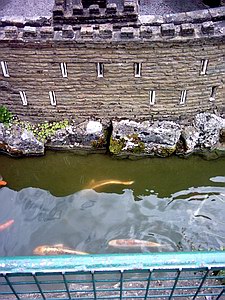 Leviathan
Goldfish seem the size of sea monsters as they swim through the model village castle's moat.
A month in which I voted for someone other than myself for a change, grew potatoes on our balcony, visited a model village and an open-air museum, and discovered Dunstan's sheep. I also joined Twenty Questions and started rebuilding my business website at andydarley.com.
July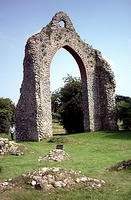 Wymondham Abbey
The ruined end of the Chapter House. That tiny white blob by the base is me.
My extended break from work came to an end as I returned to working nights at the Independent after a few years away. Adventures in reality TV saw me make the first cut in selection for a British version of The Appentice (but no further) and be scheduled to take part in a Big Brother phone-in – which was then cancelled because of an over-running cricket match.
August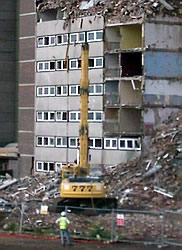 Colour palette
Lemon yellow, black, beige and grey. I wonder if the people who lived here knew the colours their neighbours had chosen?
August was completely dominated by my attempts to get used to the hours I was now working… as has been every month since. For some reason the sleep disruption seemed to inspire some of my best writing of the year – it was impossible to cherry-pick links for this month. This was also the month when my hits skyrocketed, thanks to people Googling an unfortunate – and entirely accidental – juxtaposition of a female soccer player's name and the word 'lesbian'.
September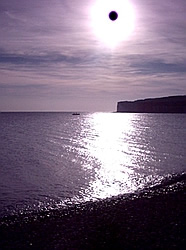 Eclipse, sort of
The evening light on the sea overwhelms the camera, which responds by blacking out the sun. Still, at least with a digital you don't burn out your eyeball.
The rich vein of creativity that ran through August dried up in September as posts in this journal became less and less frequent. This was partly because I was increasingly getting sucked into the US Presidential election coverage. Instead of being here, I was at dailykos.com and myDD.com. Much good it did me. At the end of the month we disappeared onto our annual trek on the South West Coast Path, which was to take up the first half of October.
October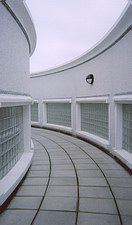 On the roof of the Tate St Ives
For the first half of October we walked. And walked. And walked. I don't know what happened in the second half – I spent it all either asleep, at work, or glued to liberal US blogs. I wrote nothing of note, and did little either.
November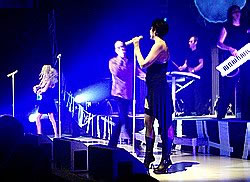 The Things That Dreams Are Made Of
The Human League: Susan, Phil and Jo perform the world's best encore song
In November I predicted a Kerry victory, and then blundered around for a fortnight in confusion when it didn't happen. By the end of the month I was writing again – and dancing like a mad thing at the Human League tour.
December

Shell Centre
Looking skywards up the front wall from walkway level
Too soon to get any perspective on this month, I suppose. Looking back at the posts it feels like a normal month, really. Whatever one of those is…