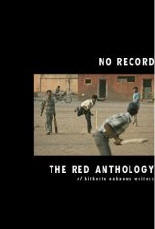 If I type this really fast it may just sneak under the wire and count as a March post, thus keeping up my new average of a post a month in 2007. Pretty grim stuff, compared with the several a day I used to manage when writing this thing was fresh and new in late 2002.
It's not like I've been writing nothing at all, though – the anthology with my story in creeps ever closer to becoming reality. That's its cover over there, beside these words. Neat, huh?
Got an email from the publisher today – they've now got a MySpace page, heaven help us all. For those who are into that sort of thing, it's at myspace.com/norecordpress.
In other news there was this, which just felt like one of those things that needed to be done.