So, Hemsby then. Small village on the Norfolk seaside, too far north for the bright lights of Great Yarmouth, too far south for the wilder, quieter, less commercial, interesting bits of coast.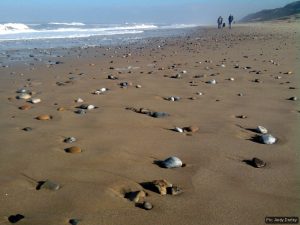 A part of the county where they factory farm tourists in endless caravan and chalet parks, where grey-haired rockers play the Byrds and the Monkees in clubs full of appreciative grandparents, where endless piles of twopenny pieces balance on the edge of the drop in endless arcade machines, never quite cascading down.
I loved it.
I'd begged a long weekend in my parents' caravan, just me and my laptop and my plans for a novel (oh – and a box of college marking, but let's not mention that). Just as on a previous day trip to Hunny, I wanted the seaside at a time when it wasn't swamped by tourists.
I love to see what's in the cracks between the places the people go, what's left behind in the busy places when they've stopped being busy.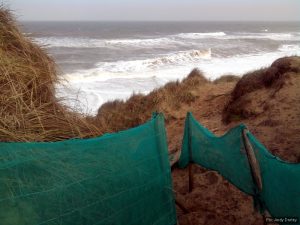 And I certainly picked the right weekend. Although the sun shone at the end, which was not unpleasant, for most of it there was driving wind and horizontal rain. On Saturday night the TV weather map, showing the whole of East Anglia, had a big arrow indicating gale-force wind that pointed exactly at the caravan.
Couldn't have been better.
So, I did get the project moving again. It's an idea I floated 18 months ago in a Faber Academy writing workshop with the authors MJ Hyland and Trevor Byrne, and it's a good idea. But time and, you know, life and stuff, mean I haven't done anything more than poked at it since.
And this weekend I moved it on enormously. I have characters now, and a milieu, and a narrative (though not yet the right way of translating that into a non-linear plot with multiple voices… this isn't going to be easy). I'm happy.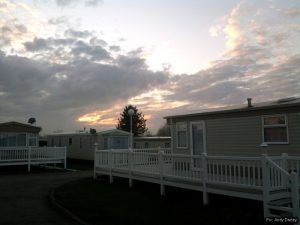 But it's a funny ole place, that Hemsby. There's a village a little inland, a proper little Norfolk village. Then there's a thick layer of caravan parks, most with their own club or bar, and a sliver of arcades. And out from these are the sand cliffs that hide the sea, and which are being steadily eroded. Sheltering behind – and sometimes embedded in – the dunes are rows of wooden chalets, a silent secret community sandwiched between the noise of humanity and the power of the sea.
Which is the real Hembsy? I don't know. Perhaps they all are.
They were all interesting in their way. The village got on with life as if there wasn't a tourist magnet nearby. The chalets, too, seemed to have little connection to anything else – if it wasn't for the cars parked with them, they could have been from another decade. But it was the tourist ecosystem that fascinated me most.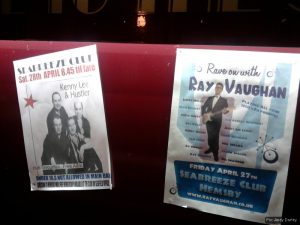 On two of the nights I was there, the caravan park club had live acts. One was a Buddy Holly tribute, the other a band with thick local accents, thinning grey hair and an inexhaustible supply of banter. Each was well-known to and well-loved by the club audience, filling the dance floor with retirement-age couples for short bursts of careful but comfortable twirling and twisting.
The holiday resort live music scene isn't one that gets much attention – it isn't glamorous, and the serious music journos and the X-Factor starlets would each likely sneer at it. But that would be unfair, as the people in it are seasoned professionals, deserving of respect for their unheralded pursuit of a craft and for the pleasure they give.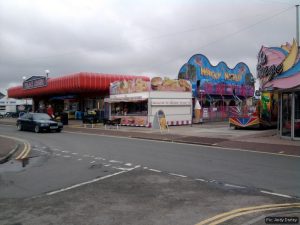 I was less sure what to make of the nearest thing Hemsby has to a strip – a road lined with arcades that borrow their names and facades from Las Vegas, like the Mirage or the Palace Casino, or which try to bask in reflected light from Hollywood, Formula One and any part of the world that can guarantee sunshine, glamour, wealth or class.
"London – New York – Paris – Rome – Hemsby" declared one ice cream and shakes parlour, in deliberate and happy irony. Not every place seemed quite so clear on the joke.
Down the coast, another caravan park settlement is called California. Here, there's a Bermuda park – or was it Bahamas? Get swept up in the illusion and it's fine – take a step back and see the fields outside the village, or look up at the grey skies, and it all starts to look hallucinatory – even psychotic.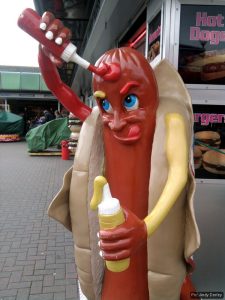 Although, not so psychotic as the statues – human-sized hot dogs and cartons of fries with faces to give you nightmares, solitary centurions, the many children's rides.
And in the road outside my caravan park, a painting on the Tarmac designed to promote Hemsby and its caravan-and-sand-chalet suburb Newport. A grinning Viking in horned helmet, with the caption "1200 years of seaside fun".
Seaside fun? The Vikings?
Storming ashore from their longboats with bucket and spade in hand perhaps, ready to find a comely English maiden to buy a punnet of chips from, before spending a jolly afternoon on the fruit machines, the F1 karts and the Lost World crazy golf.
Like I say, funny place, Hemsby.
Couldn't have been better, as far as I was concerned.
Photo gallery
Click thumbnails to enlarge.