In early October we venture off on our annual expedition on the South West Coast Path. We've been plugging away at it in stages since 1997, and this year we plan to walk from Falmouth to Plymouth. To be honest, though, we're a bit out of practice. And, in my case at least, out of shape also. After the last Bridget Jonesesque post I did eventually weigh myself and discovered I'm 14st 13lb – a rather depressing 209lbs, though not my heaviest ever. The annual walk usually knocks a few inches off my waistline, so I live in hope, but still it's a far cry from when I was the [intlink id="confessions-of-a-part-time-cornerback" type="page"]lightest registered player in the British American Football League[/intlink], at 146lb soaking wet.
With this in mind, a couple of days ago we headed for the south coast to get in some preparation by tackling a six to seven mile walk over some of the Seven Sisters and down into Cuckmere Valley.
The sisters are seven shining-white chalk cliffs, visible from miles out to sea, with dry valleys between them. They represent two things to casual day walkers: an irresistable challenge and a lot of severe drops and climbs. As well as the coastal section the walk (which was circular) also featured a section by the indecisive Cuckmere River, which has changed its course over its valley floor many times in the last few centuries, an inland stretch through Forestry Commission woodland, and the small village of West Dean, which from its construction and church is clearly very old and from the number and type of cars and the quantity of internal building work going on is equally clearly very rich and getting richer.
Despite one or two moments when morale plunged (usually when the path was doing exactly the opposite) it actually turned out to be a lot easier than expected, so we are hopeful about the prospects for this year's Coast Path walk.
Afterwards, because we were close by, we drove to Beachy Head – a cliff of heroic proportions, infamous for the number of suicides who either fling themselves bodily over the edge or occasionally drive their cars over, Thelma and Louise-style, not always with the consent of their passengers. It was an unsettling, vertiginous place that looked like a municipal park – apart from the way it dropped hundreds of feet into the sea on one side, with barely a knee-high fence (not always even that) to mark the edges. In one place a bunch of flowers had been taped to the fence, in another tyre marks in the grass headed straight for the cliff edge (we looked carefully, but they didn't go right to the edge, and there was no damage to the very lip of the cliff as there would have been if it had gone over, so we suspected a maintenance vehicle). We stayed until sunset (a spectacular sight) and drove home weary but content.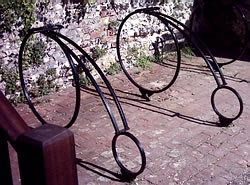 Penny for your thoughts
Cycle racks in the Seven Sisters Country Park visitor centre shaped like antique Penny Farthings.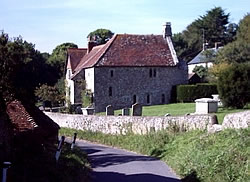 Go west, young man
West Dean, which by the look of it has a monopoly on the area's history – and money.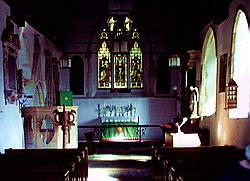 Sanctuary
The church in West Dean, some of which dates back to Saxon times.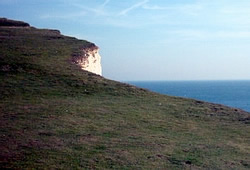 And suddenly the land stopped
On this circular walk we reached the coast abruptly – the valley stopped as if cut off by a knife, and we turned right along the cliff-edge.


Watching me watching the world
I turned the camera round out of curiosity to see what I looked like while I was looking outwards… the answer turned out to be lined and careworn. Such is life.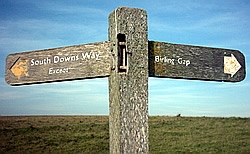 Signage
Signs fascinate me, and I take a lot of photos of them. Here the South Downs Way goes off in one direction, while the Birling Gap is in the other.


To the beach – hurrah
Only problem was – we were on a clifftop and it was a long way down…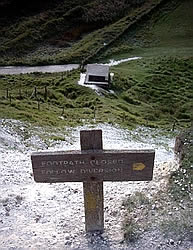 They weren't kidding
It says 'footpath closed', but the mystery is how it was ever open in the first place – that building is an awful long way down.


Sheep drop
I don't think it was about to jump, but sheep aren't known for their high intelligence so perhaps it hadn't noticed the steep drop with me at the bottom.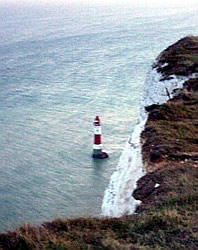 Final view
The last sight some people ever see is Beachy Head lighthouse at the foot of the cliffs that prove so tempting to the suicidal.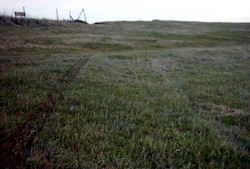 Tracks of my tears
Actually these tyre marks don't lead right up to the edge – they disappear just at the point they cross something that might be a track running parallel with the cliff. We suspect municipal gardeners doing their rounds.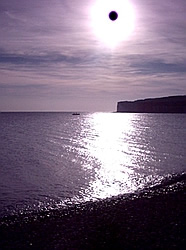 Eclipse, sort of
The evening light on the sea overwhelms the camera, which responds by blacking out the sun. Still, at least with a digital you don't burn out your eyeball.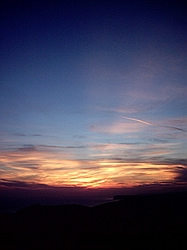 Sunset spectacle
Pretty damn impressive, we thought.