Last night was the Human League gig at the Reading Hexagon. Which is an unhappy thing, because now I'm remembering having been to it, instead of looking forward to going to it. But nevertheless, it was a great evening – me, Beloved Other Half and Jules from the Frozen North sang ourselves hoarse and clapped and danced until our hands and feet were ready to rebel – and then we queued outside in the drizzling rain to meet the band and get autographs.
Highlights? Many.
We were up near the front, on the right of the stage where Jo is based, which meant we got a terrific view and some good photos. We weren't crushed and had room to dance, and were close enough to be noticed by the band – when we met them afterwards, Jo said she recognised Beloved Other Half. And when my favourite song, the 2001 single All I Ever Wanted, began we went so loopy that I swear I saw Phil look at us with an appraising expression on his face, as if to say 'this is going down well for a song that no-one bought'.
They performed The Stars Are Going Out, a melancholy, atmospheric album track that you don't often hear. I'd voted for it in an

online poll

to request a song to be played, which they were known to be keeping an eye on.
Nic Burke and Neil Sutton, two band members who joined long after the glory years and who add so much to the present-day Human League, had an increased role in the show. Neil (who usually lurks at the back) was often up the front with a keyboard designed to be carried like a guitar (there's probably a technical name for this but I don't know it). And Nic, who doubles up on keyboards and guitars, was given a lot more prominence for his solos and even got to sing Jo Callis's lines in Fascination.
Disappointments? Hardly any.
Because several rarities were added to the set, some of the usual songs had to be dropped. And among the ones that went were two of my favourites – One Man, which Susan sings as a solo to an acoustic backing, and Louise. But it was worth it to see some different stuff.
Nic and Neil didn't come out for the signing afterwards :o(
They had some technical gremlins which knocked out some of the keyboards in a couple of tracks but it was nothing compared with the disaster when we saw them in 2001 on the opening night of their tour to promote the Secrets album, which was just then in the process of bombing. Then, they lost everything for five long minutes, maybe more, and Phil looked like he wanted to die. This time, everyone was able to treat it as a big joke. The contrast was very marked, I thought, and no bad thing.
Here, as best as I can manage, is the set list:
Mirror Man
Open Your Heart
Tell Me When
All I Ever Wanted
The Lebanon
First Man In Space
Empire State Human
Life On Your Own
The Stars Are Going Out
Human
Heart Like A Wheel
Sound Of The Crowd
Love Action
Fascination
Together In Electric Dreams
Don't You Want Me
Encore:
Being Boiled
The Things That Dreams Are Made Of
Anyway, as ever, here are photos: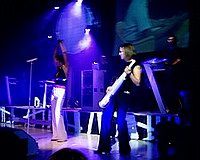 Open Your Heart
Jo and glamorous goth guitarist / keyboard player Nic Burke – the band's newest heart-throb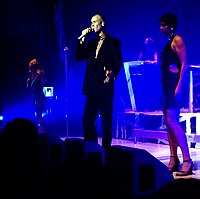 The Stars Are Going Out
Susan, Phil and Jo – this is a brilliant album track which they performed after a poll on the fan website Secrets Online. I'm dead chuffed because it was the song I voted for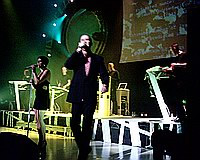 Heart Like A Wheel
It may sound poppy, but this is a stridently anti-war song – and the screen behind them is scrolling fact after fact about the Iraq war to back it up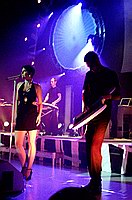 Sound of the Crowd
Keyboardist and song-writer Neil Sutton steps out of the shadows to join Jo. He's an unassuming man – when I asked for his autograph last year he couldn't understand why I was interested in talking to him when Phil, Jo and Susan were around too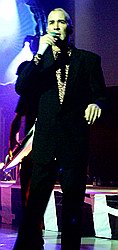 Sound of the Crowd II
Phil's a restless figure on stage, barely still for moment, always moving from one side to the other at a run, singing to different sections of the audience – very useful if you're taking photos…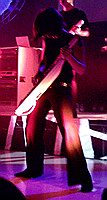 Sound of the Crowd III
Nic proves once again that electronic music doesn't have to mean three blokes standing behind racks of keyboards (which is not a dig at the support act, Trademark, who were exactly that. I liked them enough to buy their CD)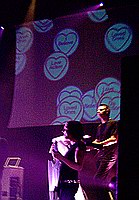 Love Action
Nic and Neil in front of one of the more inspired visuals of the night – love hearts with random lyrics on them. The cry has already gone up for t-shirts…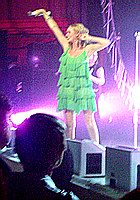 Don't You Want Me?
Susan displays her unique fashion sense as she encourages the crowd to sing the line "I still love you"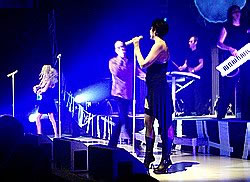 The Things That Dreams Are Made Of
Susan, Phil and Jo in the world's best encore song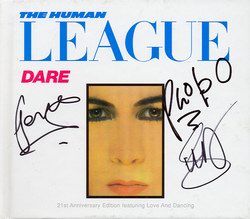 The Soundtrack to a Generation
Dare / Love And Dancing 21st Anniversary Edition, as signed by Jo, Susan and Phil